The plant of 100L×3 is three extractors two separators SCFE device, the working medium is CO2, which can be reused. The extract, separate pressure and temperature can be automatic and remote controlled by computer. The extractors can work with the way of series, parallel and single. The series valves on the import and export of each extractor can be manual controlled, the highest working pressure control method of each extractor during working is by the use of pressure transmitter, safety valve and control signals. It is safety and reliable. The extractor cover of this plant uses hydraulic pressure quick opening structure. The metal contact with material of this plant, such as container inner surface, pipe, valve and so on. All of them are manufactured with stainless steel which has the characters of anti-sour and anti-alkali and satisfy food hygiene demand.
CO2 supply system
Put liquid CO2 by delivery pump to condenser before or during operation. The CO2 supply system contains: outside CO2 delivery pump, outside tank.
The working description of extraction and separation
The liquid CO2 flow through pre-heater to heat after pump by CO2 high pressure pump, then flow to extractor, the outlet temperature will be controlled automatic.
Lift the cartridge to extractor by electric hoister, pure supercritical state CO2 will flow from the bottom of extractor, through cartridge and outlet at the top of extractor, the effective content will dissolve in the liquid CO2.
The extraction section has three extractors, they can be used in parallel or series way.
The liquid CO2 with effective content flow into separation unit, the separation has two steps.
The supercritical CO2 with effective content flows from extractor, through the first control valve and then to the stair separator. We can get effective content from the bottom of stair separator by pressure control.
Then the CO2 will flow to the secondary separator, where continue to separate effective content at the bottom of separator with the same way of stair separator.
The extraction and separation system are composed of CO2 high pressure valve, extraction heater, extractor(with quick-open structure), cartridge, separator1, heater of separator1, separator2 and heater of separator2.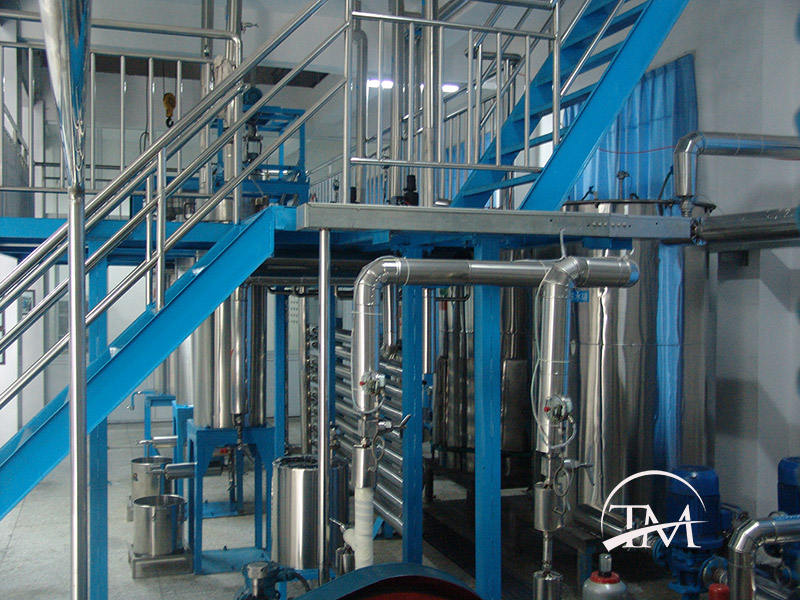 Tags: spagyric thc extract, tabletop co2 extractor buy europe affordable, c02 extraktion anlage cbd, cbd extraction co2