The plant of 500L×3 is three extractors two separators SCFE device, the working medium is CO2, which can be reused. The extract, separate pressure and temperature can be automatic and remote controlled by computer. The extractors can work with the way of series, parallel and single. The series valves on the import and export of each extractor can be manual controlled, the highest working pressure control method of each extractor during working is by the use of pressure transmitter, safety valve and control signals. It is safety and reliable. The extractor cover of this plant uses hydraulic pressure quick opening structure. The metal contact with material of this plant, such as container inner surface, pipe, valve and so on. All of them are manufactured with stainless steel which has the characters of anti-sour and anti-alkali and satisfy food hygiene demand.
Cold water circulation system working description
Pump tap water to purified water equipment, it flows to cold water tank after purifying. Pump cold purified water to refrigerator, the water will back to cold water tank after cooling. Allocating cold water of water tank to condenser, CO2 middle tank jacket by cold water pump, the system can adjust temperature by electric-control vlaves.
Cold water system is composed of cold water tank, pump, and cooling tower
hot water circulation system working description
Put soften water to hot water tank, start hot water circulation pump and heated by electro-boiler(or heated by vapor), then distribute the hot water to extractor, separator, heat exchanger by the use of hot water circulation pump, this will ensure vessel temperature satisfy process demand, cut off hot water circulation system by electro-adjust valve when the medium temperature of some vessel lower than process temperature, stop hot this vessel. Start hot water circulation system by electro-adjust valve when the medium temperature of some vessel higher than process temperature. The temperature control point arranges at gas linking pipe.
The water circulation system is composed of water tank, water pump, electric-heater
Steel platform description
The steel platform is for device fix and operation
With carbon steel, and antirust paint, the plane and stair is stainless steel riffled plate.
Electricity hoister is used to lift cartridge.
Trolley is used to delivery cartridge
The steel platform is composed of rack, platform, electricity hoister, trolley.
Tail gas recovery system working description
When extraction finish, close CO2 high pressure pump, the CO2 of extractor and separator will flow back to middle tank, when pressure balance, let the CO2 of extractor to another extractor, and pump the residual CO2 by compressor when pressure balance between two extractors.
The tail gas recovery system is composed of gas butter tank, CO2 recovery compressor.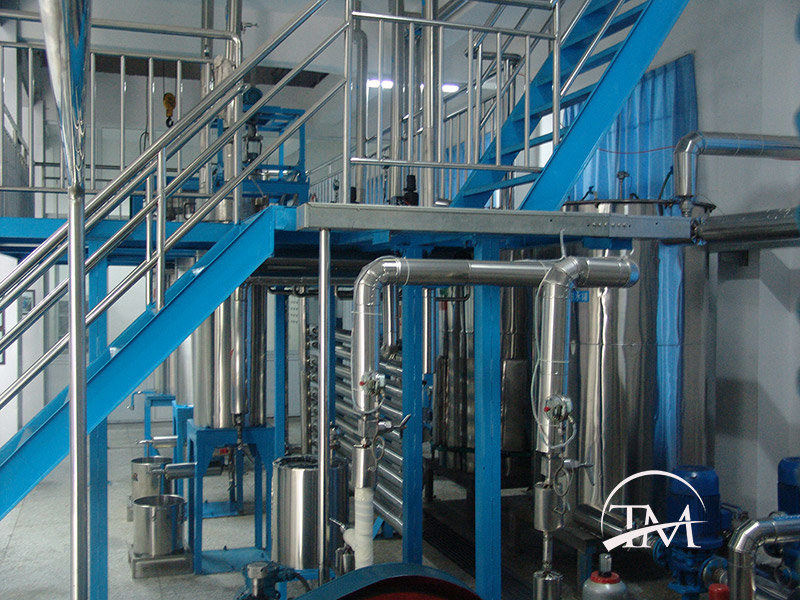 Tags: prix machine d extraction cbd au co2 super critique, plant leaf extraction process in lab, cbd extraction with tfp