700L Supercritical Fluid Extraction Parts – CO2 Extraction System
a)Function: to extract material in supercritical condition.
CO2 in intermediate tank is pressurized by pressure pump and then heated by extraction heater to flow in extraction vessel in supercritical state, which will help the effective ingredient (i.e. extract) in raw material dissolve in CO2.
b) Key parts:
1)Intermediate storage tank (C302), 1 piece;
2)CO2 pressure pump (P502/1, P502/2), 2 pieces (one is used with a spare piece);
3)Extraction heater (E402), 1 piece;
4)Extraction vessel (R101~R103), 3 pieces;
5)Material bucket, 5 pieces (used by turns);
6)Some components like pipeline, valve, instrument, etc.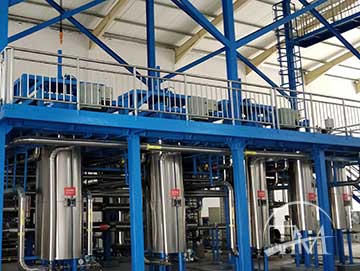 Tags: 700L Supercritical Fluid Extraction Parts, CO2 Extraction System, supercritical co2 extractor for sale, hanf complete cbd aus co2 extraktion, cbd extraction companies