Heat System – 700L Supercritical Fluid Extraction Part

a) Function:Provide heat source for the whole device to ensure orderly changes of CO2 status;
The water at normal temperature in the hot water storage tank is injected hot water pump in the pipeline into the electric heating boiler to the required temperature, and then recycled into the hot water storage tank for storage. When the water in the hot water storage tank reaches the process parameters, it is injected respectively into the drying heater, separation heater, extractor jacket, first and second separator jacket by hot water pump.The temperature sensor signal will be passed to the host computer through the temperature sensors of each container and pipeline, The PLC control system controls the valve opening in the pipeline to ensure that the hot water in the system always meets the process temperature requirements.
b) Main Components:
1)Hot water boiler or Plate heat exchanger(E405 or E401C),each 1 set;
2)Hot water pump(P601、P602),two sets;
3)Hot water storage tank(C304),1 set;
4)Heater、Vessel Jacket(R101~R103,S201、S202,E402~E404),8 sets;
5)Pipe, valve, meter element, some.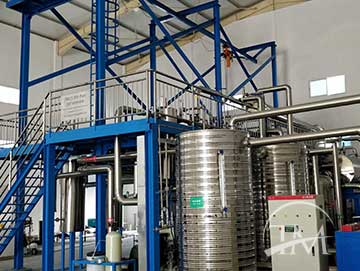 Tags: Heat System , 700L Supercritical Fluid Extraction Part, CO2 Cbd Extraction Machine, Supercritical Fluid Extraction Equipment