Operation Procedure
Introduction to the operation of main equipment of this plant will be made first in this chapter, and then to the extraction recycle.
Routine Examination before Opening of the Extraction System
Examine if the electrical equipment has good ground connection, if electrical voltage meets the requirement and if the working environment is safe.
Check the storage volume of the processing water in the cold-water storage tank C305 and hot water storage tank C304. Feed water if liquidometer is less than 800mm (80%).
Check the storage volume of CO2 in CO2 storage tank. Feed more CO2 if the liquidometer shows less than 800mm (50%) to ensure whenever opening the system, the CO2 is around 800mm.
Check if all the instrument and valves are in good condition.
Check if the drain valve of the CO2 storage tank still drain water away, and if yes, continue to drain water away till white CO2 is drained out, otherwise water in the material may come to CO2 storage tank and pressure pump may be destroyed if water goes into the pressure pump.
Check if any water is drained out from air compressor storage tank, if yes, drain out all the water.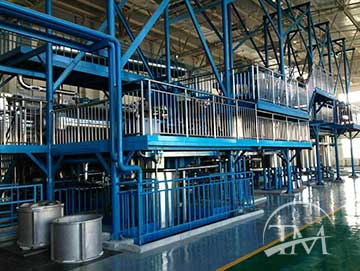 Tags: supercritical co2 extractor for sale uk, supercritical fluid extraction poppy, cheap supercritical co2 extractor, supercritical fluid extraction kit price