Supercritical fluid extraction (SFE) is a new chemical industry that uses supercritical fluids to separate, recover and purify matter at critical temperatures and critical pressures.
The technology is environmentally friendly, known as "green technology"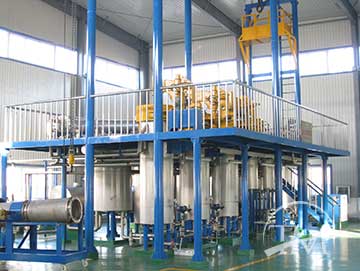 General situation
The supercritical CO2 extraction plant is three extractor two separator SCFE device, the working medium is CO2, which can be reused. The extract, separate pressure and temperature can be automatic and remote controlled by computer. The extractors can work with the way of series, parallel and single. The series valves on the import and export of each extractor can be manual controlled, the highest working pressure control method of each extractor during working is by the use of pressure transmitter, safety valve and control signals. It is safety and reliable. The extractor cover of this plant uses hydraulic pressure quick opening structure. The metal contact with material of this plant, such as container inner surface, pipe, valve and so on. All of them are manufactured with stainless steel which has the characters of anti-sour and anti-alkali and satisfy food hygiene demand.
Equipment composition
The equipment is composed of CO2 supply system, extraction and separation system, CO2 circulation system, clean system, co-solvent system, cold water circulation system, hot water circulation system, steel platform, control system, tail gas recovery system, and so on.
Supercritical Fluid Extraction Technology Advantage
1. Environmental protection
2. Extraction product improve the health
3. Improve the food safety
4. Low viscosity and high air permeability
5. Excellent solubility with similar liquid density
6. The solubility of a substance depends on the density of the solvent. By changing the pressure and the temperature, we can achieve a change in the solubility parameter
Why we choose CO2 as Supercritical fluid (SCF) ?
1. CO2 is an inert gas that does not chemically react during extraction and is not harmful to the environment
2. Carbon dioxide is not flammable, not easy to explode;
3. CO2 gas is easy to get, cheap, can be recycled in production .