The plant of 400L×3 is three extractors two separators SCFE device, the working medium is CO2, which can be reused. The extract, separate pressure and temperature can be automatic and remote controlled by computer. The extractors can work with the way of series, parallel and single. The series valves on the import and export of each extractor can be manual controlled, the highest working pressure control method of each extractor during working is by the use of pressure transmitter, safety valve and control signals. It is safety and reliable. The extractor cover of this plant uses hydraulic pressure quick opening structure. The metal contact with material of this plant, such as container inner surface, pipe, valve and so on. All of them are manufactured with stainless steel which has the characters of anti-sour and anti-alkali and satisfy food hygiene demand.
CO2 circulation system description
The CO2 will back to middle storage tank after finish extraction, waiting the pressure balance between extractor and middle tank at 50bar, then put the left CO2 of extractor to the next extractor, the pressure will balance at 20bar between two extractors, then the 20bar CO2 will be recycled by CO2 recovery compressor.
CO2 without effective content flows to condenser, after cooling in the condenser, it flows to middle tank to deeply cooling.
CO2 circulation system is composed of CO2 middle storage tank, condenser.
Co-solvent system working description
Our device can pump the co-solvent to the extraction and separation system by co-solvent pump at any time according to customer's process requirement.
The co-solvent system is composed of co-solvent tank and co-solvent pump.
Clean system working description
Pump the clean agent to pipes from clean tank when finish extraction working.
The clean system is composed of clean storage tank, clean pump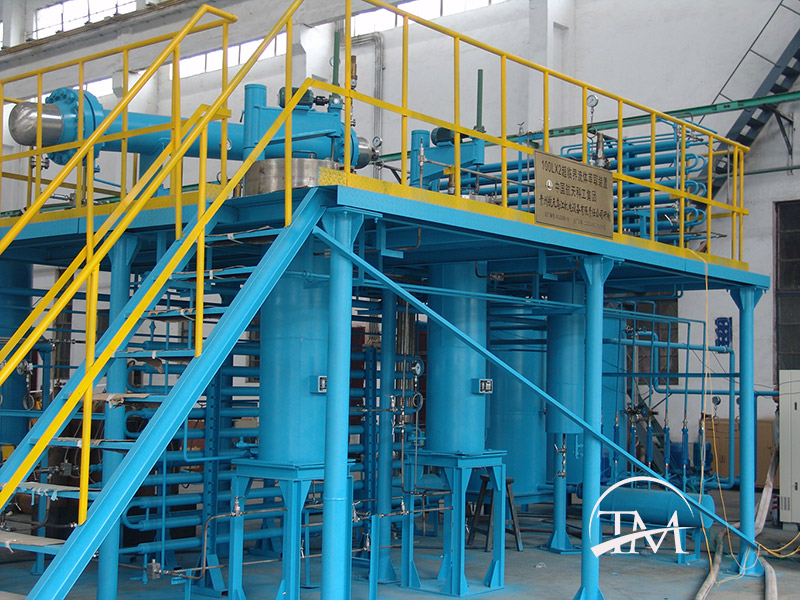 Tags: supercritical fluid extraction pilot plant equipment from german, co2 extraction machine manufacturer europe, eden labs supercritical co2 extractor