CO2 Separation System – 700L Supercritical Fluid Extraction Part

a)Function: to separate CO2 and extract after extraction.
After extraction, supercritical CO2 fluid carrying extract, depressurized and inflated via adjusting valve, flows into the first separation vessel after being heated in the first separation heater. Partially-separated CO2 fluid carrying little extract will flow into the second separation vessel for further separation after being heated in the second separation heater. After complete separation, CO2 will be condensed and liquefied in condenser for future use. Extract separated in two separation vessels will be discharged into storage tank through outlet at the bottom of vessel.
b) Key parts:
7)Separation heater (E403, E404), 2 pieces;
8)Separation vessel (S201, S202), 2 pieces;
9)Some components like pipeline, valve, instrument, etc.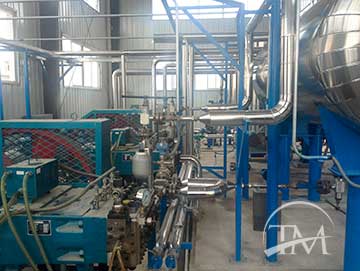 Tags: CO2 Separation System, 700L Supercritical Fluid Extraction Part, cbd extraction machine, co2 extraction machine for sale