Operation of Separation Tank (S201, S202)
Separation kettles are containers that do not require frequent disassembly and opening. They can only be removed and opened when long-term use or replacement of different materials is required. The separation tank removal is as follows (taking S201 as an example):
a) Close the S201 valve J42, J44, open J43;
b) Exhaust the gas in the container. When the pressure gauge shows "0", open the throttle valve JL02, drain the remaining gas in the container, observe the on-site pressure display value, and confirm that the pressure gauge and pressure transmitter display are all "0";
c) remove the lid on the separation kettle, open the clamp, and lift the top cover;
d) to reach the appropriate height to remove the seal, check the status of the seal and the intake manifold;
e) cleaning the tank body, top cover with a cleaning agent, and drying the tank body with compressed air;
f) Refit the gasket and top cover, and then install the clamps and bolts;
Separate the operation of the kettle S202 and switch the valve according to the S202 pipeline flow chart. The operation is the same as S201.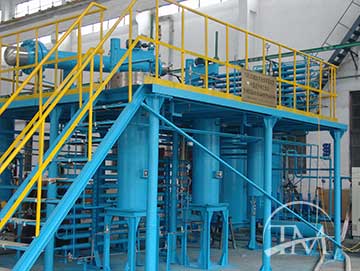 Tags: cbd extraction machine cost, co2 cannabis extraction, herbal extraction machine, co2 extractor for sale canada, cbd co2 extraction equipment